Tags
#photography, colorado, cowboy, lincoln rogers, lincolnrogers.com, photography, procrastination, redesign, USA.Life, website, west, western, Writing, www.lincolnrogers.com
At least most of it!
Over 15 years ago, I put in a lot of work and hours into custom building my own website. Over the years, more hours were spent trying to keep it updated. But then it started to feel… dated.
But I procrastinated in redesigning my website because I knew it would take many more hours to get it set up the way I wanted. And I procrastinated. AND procrastinated!
Well… procrastination over. I finally bit the bullet, so to speak, and did a redesign and rebuild of my www.lincolnrogers.com website. It still needs some tweaking and a LOT more photography needs to be added — I am planning on setting up a number of galleries of my past work — but the redesign makes it more current and much more simplified.
Give it a visit, would you? I would love to have you drop by.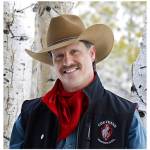 You can also find Lincoln Rogers on
www.lincolnrogers.com and the conservative,
Pro-America social media platform USA.Life
I like it there!