Tags
#photography, ancient, award winning, bees, buy local, Castle Rock, colorado, craft, craft mead, craft meadery, DJ Kurtz, fermentation, honey, honey bee, honey bees, honeybee, honeybees, honnibrook, honnibrook craft meadery, lincoln rogers, mead, meadery, Michael Fagan, photography, small business, west, Writing
Pun-tastic headline aside, I learned a ton about mead this weekend as I spent time with the co-owners (Michael Fagan and DJ Kurtz) of a Colorado craft meadery in the town of Castle Rock who are making a name for themselves and their fast growing business: Honnibrook Craft Meadery.
Right now, I am in the beginning stages of putting together a magazine article about Honnibrook and its use of Colorado sourced honey to create their award winning meads. Kurtz and Fagan approach making their mead differently than most producers (i.e., 6.2% alcohol vs 10+% of most meads) and their techniques are also different. Their unique craft brewer approach is paying off with awards and surprising (in a good way) growth.
Fagan and Kurtz are two really nice guys who are incredibly passionate and enthusiastic about what they are doing and it shows in their product. They refuse to let anything get to the consumer that does not meet their own high approval standards for their mead. It was a lot of fun to interview them and take some photos while they were creating a new batch. I look forward to putting the article together.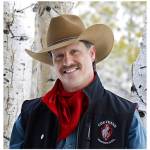 You can also find Lincoln Rogers on
www.lincolnrogers.com and the conservative,
Pro-America social media platform USA.Life
I like it there!