Tags
#photography, Aeromaster, colorado, Colorado Manure Hauling, compost, composting, country, Elbert County, environmental, equestrian, equine, horse, horse manure, horses, Jonathan Whetstine, lincoln rogers, manure, quality, Richer Lands Compost, Roger Whetstine, rural, waste, west, western, windrow method
A Pair of Related Colorado Companies Blaze a Trail by Taking What is Left Behind
A new article of mine is now out on the website of The Fence Post magazine and will be in their upcoming print edition (Monday May 02, 2022). Colorado Manure Hauling (CMH) and Richer Lands Compost are believed to be the only business combination in the country to perform the hauling and composting of equine waste to create a high-quality compost for commercial and residential use. While other businesses compost horse manure, they blend it with other organics. CMH and Richer Lands Compost look to be the only ones to use equine waste as a single-source for their final product.
https://www.thefencepost.com/news/the-source-is-the-horse-of-course/
I hope you enjoy the article and learning about how these Colorado companies are leading the way in creating high quality equine waste compost.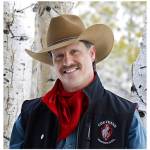 You can also find Lincoln Rogers on
www.lincolnrogers.com and the conservative,
Pro-America social media platform USA.Life
I like it there!