Tags
#photography, America, bareback, barrel racing, bronc, buck, bucking, bull riding, bulls, cattle, colorado, country, country life, cowboy, cowboys, culture, elizabeth Stampede, horse, horses, lifestyle, lincoln rogers, patriotic, patriotism, racing, riding, rodeo, roping, rural, saddle bronc, small town, steer wrestling, team roping, tie down roping, tradition, west, western, winning
I've been on a a bit of a self-induced content creation blitz the last week or so as the award winning Elizabeth Stampede Rodeo is coming up quick (first weekend of June). This latest video is a fast-paced piece that is a compilation of my photography of that rodeo over the years 2003-2021. It's been a pleasure to cover that rodeo for publication in numerous magazines over the last couple of decades. Click on the link or the image to go to the video on the Rumble platform.
https://rumble.com/v15uc89-award-winning-elizabeth-stampede-rodeo-years-2003-2021.html
I hope you enjoy!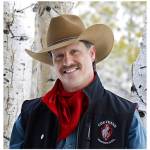 You can also find Lincoln Rogers on
www.lincolnrogers.com and the conservative,
Pro-America social media platform USA.Life
I like it there!