Tags
chainsaw, coffee, country, country living, friend, friends, friendship, fun, funny, gift, good friends, good neighbors, good things, good things come in threes, lincoln rogers, morning coffee, neighbor, neighbors, rural, surprise, west, western
So what does a chainsaw, morning coffee, and a great neighbor have in common? Well, let me tell you…
I had to borrow a neighbor's chainsaw (because my old one died), and the thing was finicky, to say the least. If I faced southeast, stood on one foot and tilted the chainsaw 37-degrees to the right, I might… MIGHT… get it to start. I finally threw up my hands, jumped in the diesel and went to the local farm and ranch store to purchase a new chainsaw. With my recency bias intact, I brought home a different brand along with getting a larger 24″ model (my neighbor's is a 20″ model). Ever since that day, it has been a running joke between the two of us that my chainsaw is bigger…
This past weekend, we had those neighbors over for steaks on the grill and they arrived with a surprise gift, and a hilarious one at that. They know we love coffee, so the package was a bag of coffee named "Chainsaw" with a logo of a chainsaw on the front. Obviously, the ribbing between us about chainsaws will continue for the foreseeable future!
Life is great. You wouldn't think the purchase of a chainsaw would have anything to do with morning coffee, but a great neighbor makes anything possible. It's one of those rules of living. Good things come in threes.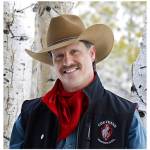 You can also find Lincoln Rogers on
www.lincolnrogers.com and the conservative,
Pro-America social media platform USA.Life
I like it there!