Tags
bucking, bucking bull, bul rider, bull, bull riding, bulls, colorado, country, cowboy, cowboys, extreme sports, Greeley Stampede, lincoln rogers, ornery, rodeo, roughstock, rural, tough, video, west, western, wreck
A little 13-second reminder to never get on the back of an ornery bull. What is that famous country-western tune? "Mommas don't let your babies grow up to be cowboys." Click on the link or the image to go to the video clip!
https://rumble.com/v16dau3-a-slo-mo-bull-ride-that-goes-wrong.html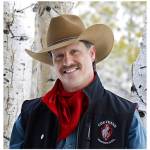 You can also find Lincoln Rogers on
www.lincolnrogers.com and the conservative,
Pro-America social media platform USA.Life
I like it there!