Tags
animal, colorado, cool, cool moment, country, cowboy, equestrian, eye, eyeball, Greeley Stampede, horse, lincoln rogers, logo, moment, photo, photography, pickup man, reflect, reflection, rodeo, rural, west, western
I enjoy looking for interesting moments while I am photographing an event for publication. One such moment arrived while I was covering 2022's 100th Greeley Stampede on Sunday June 26. A rodeo pickup man stopped his horse right in front of where I was shooting. As I always do when a horse is nearby, I enjoyed looking at the horse! That is when I noticed the Greeley Stampede's logo was reflected from the arena wall in the eye of the horse. So I took the shot and thought it would be cool if it turned out.
I like what I do!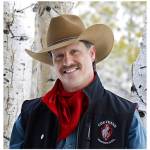 You can also find Lincoln Rogers on
www.lincolnrogers.com and the conservative,
Pro-America social media platform USA.Life
I like it there!