Tags
#photography, ardie maier, aspirin, athlete, bull, bull rider, bull riding, bulls, colorado, country, courage, cowboy, cowboys, elizabeth Stampede, extreme sports, John Wayne, lincoln rogers, middle age, pain, PRCA, rodeo, roughstock, rural, sport, touch, toughness, west, western, what?
41-year-old Ardie Maier of South Dakota arrived at the 2022 Elizabeth Stampede and promptly earned second place overall with an electric 82-point ride aboard a Summit Pro Rodeo Company bull named Jam Session during Sunday afternoon's "Red, White and Blue Rodeo" in Elizabeth, CO.
That's right. You read it correctly. 41 years old and still riding bulls. And doing it successfully! John Wayne famously said "Courage is being scared to death, but saddling up anyway," but there is no way. I can't even imagine getting on a bull after the age of 40. But he could. Chase your dreams, people!!!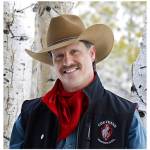 You can also find Lincoln Rogers on
www.lincolnrogers.com and the conservative,
Pro-America social media platform USA.Life
I like it there!