Tags
4th of July, America, American, American Flag, colorado, country, cowboy, cowboys, cowgirls, denver, flag, Founding Fathers, freedom, honor, horse, horses, independence, Independence day, liberty, lincoln rogers, National Anthem, National Western Stock Show, Old Glory, red white and blue, respect, rodeo, rodeo queen, rural, sacrifice, stars and stripes, stock show, usa, west, western
Independence Day. 4th of July. The American holiday that celebrates independence, freedom and liberty evokes different passions for people. For me, it always stirs a deep emotional response as I consider all the sacrifices made throughout the USA's history by people believing their lives were not such a steep price to pay for future generations to live in a country free of tyranny and totalitarianism. We seem to be on the precipice of losing our freedoms to an ever encroaching government in this day and age, but those sacrifices made in the past will be honored by me and my family in the present. God bless you and God save America. And Happy 4th of July!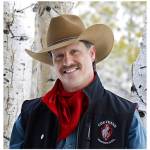 You can also find Lincoln Rogers on
www.lincolnrogers.com and the conservative,
Pro-America social media platform USA.Life
I like it there!