Tags
#photography, agricultural, animals, athletes, athletic, broncs, bucking bulls, bull, bull riding, bulls, colorado, country, cowboy, cowboys, elizabeth Stampede, freelancer, horse, horses, lincoln rogers, photography, rodeo, rural, sport, traditions, west, western
I had a photo spread of mine published on The Fence Post magazine's website. It will also be in this coming week's print edition. TWENTY photos from the 2022 record breaking and award winning Elizabeth Stampede Rodeo! Click on the link or the image to go to the published photo spread!
https://www.thefencepost.com/news/2022-elizabeth-stampede-rodeo-breaks-records-with-huge-community-support/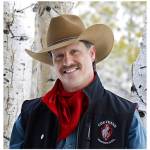 You can also find Lincoln Rogers on
www.lincolnrogers.com and the conservative,
Pro-America social media platform USA.Life
I like it there!