Tags
#photography, 2021 colorado state fair, ancient, award, award winning, bees, buy local, Castle Rock, colorado, craft, craft mead, craft meadery, DJ Kurtz, fermentation, honey, honey bee, honey bees, honeybee, honeybees, honnibrook, honnibrook craft meadery, lincoln rogers, mead, meadery, Michael Fagan, photography, small business, trophy, west, winners, Writing
I made an earlier post about Honnibrook Craft Meadery in Castle Rock, CO making "award winning" meads. In this day and age of hyperbole over substance, I thought it might be best to show one of their awards in a separate post.
Honnibrook Craft Meadery co-owners Michael Fagan (left) and DJ Kurtz (right) stand proud behind their "Commercial Wine 2021 Best of Show" award earned at the 2021 Colorado State Fair. The duo's Peach Habenero mead beat out wineries and wines from all over the state of Colorado to pick up the big win.
Kurtz and Fagan are a pair of great guys who love making mead. You can taste that passion in everything they produce. I believe the 2021 Colorado State Fair wine competition judges tasted it, as well.
I am looking forward to writing an article in the near future about Fagan and Kurtz and their use of Colorado honey to create their mead. I am just getting some additional interviews and taking a few more photos!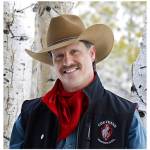 You can also find Lincoln Rogers on
www.lincolnrogers.com and the conservative,
Pro-America social media platform USA.Life
I like it there!