Tags
agriculture, baxter black, colorado, cowboy, cowboys, farm, farming, large animal vet, lincoln rogers, rachel gabel, ranch, ranching, remembering, rip, rural, the fence post, the fence post magazine, vet, veterinarian, west, western
Among the ranching, western and agricultural communities, Baxter Black's columns and humor throughout the last 40+ years have been required reading. He put into plain words, with generous portions of humor, what was often thought to be difficult to communicate to those outside the agricultural community. As a large animal veterinarian, his credentials were always impeccable. And his columns and later books only upped the ante. Baxter Black passed away at the age of 77 in Benson, Ariz., on June 10, 2022. He will be greatly missed.
Black penned over 30 books and his syndicated column appeared in more than 100 publications across the country. He was a Christian and that faith and worldview infused all of his works.
Rachel Gabel over at The Fence Post magazine just put out a nice article about him and I wanted to share the link.
https://www.thefencepost.com/news/i-know-youll-miss-this-man-baxter-black-passes-away-at-77/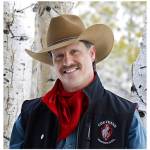 You can also find Lincoln Rogers on
www.lincolnrogers.com and the conservative,
Pro-America social media platform USA.Life
I like it there!