Tags
#photography, bareback, best, Bobby Mote, bronc, bucking horse, career, champion, colorado, compete, competition, competitor, country, cowboy, cowboys, denver, excellence, hall of fame, lincoln rogers, Mote, National Western Stock Show, NFR, NWSS, PRCA, professional, ProRodeo, prorodeo hall of fame, ride, rodeo, rural, sport, Virgil, west, western, world champion
My interview with ProRodeo Hall of Fame bareback cowboy Bobby Mote has been published. Mote was inducted into the ProRodeo Hall of Fame on July 16, 2022. He is a 4-time PRCA world champion bareback cowboy and a two-time PRCA reserve world champ who qualified for the Wrangler National Finals Rodeo (NFR) 15 years in a row. I was able to speak with him before his acceptance speech at his induction ceremony. Click the link or the image to get to the published interview. https://www.thefencepost.com/news/mote-in-the-prorodeo-hall-of-fame-in-2022/
It was a privilege to be able to speak with Bobby Mote on the day of his induction into the ProRodeo Hall of Fame. I hope you enjoy his answers to my questions as much as I did.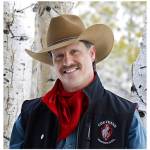 You can also find Lincoln Rogers on
www.lincolnrogers.com and the conservative,
Pro-America social media platform USA.Life
I like it there!