Tags
advertising, breakaway roping, colorado, country, cowboy, cowboys, cowgirl, cowgirls, lincoln rogers, mahindra, martha angelone, NFR Open, photography, rodeo, roping, roxor off road, rural, west, western
I always think it is cool to see any images of mine published, whether in magazine articles or online. It is always nice to see my images used well in advertising, too.
This image of world champion breakaway roper Martha Angelone was used by Mahindra and ROXOR Off Road, who is one of her sponsors. I captured this moment at the big NFR Open in Colorado Springs in 2022.
So far, it never gets old!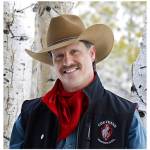 "You shall know the truth, and the truth shall make you free." ~ John 8:32