Tags
#photography, action, America, bronc riding, broncs, bucking, bull riding, bulls, colorado, country, courage, cowboy, cowboys, crowds, elizabeth Stampede, entertainment, horse, horses, lifestyle, lincoln rogers, patriotic, patriotism, photographs, photography, rodeo, rural, sold out, sport, tough, toughness, tradition, video, west, western
I just created and uploaded a recap video of the 2021 Elizabeth Stampede Rodeo in Elizabeth, CO. The short video (just over a minute long) is a compilation of video and photography that I shot over the four days of the rodeo's run (June 03-06, 2021). It is uploaded on Rumble. Give it a look and let me know what you think! Just click on the following link or the image to go to the video.
https://rumble.com/v15lx17-2021-elizabeth-stampede-rodeo-recap.html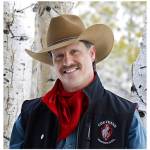 You can also find Lincoln Rogers on
www.lincolnrogers.com and the conservative,
Pro-America social media platform USA.Life
I like it there!