Tags
100th greeley stampede, animal athletes, arena record, athletes, beutler and son rodeo company, bronc, buck, champion, colorado, country, cowboy, cowboys, Greeley, Greeley Stampede, hardy braden, historic, killer bee, lincoln rogers, photo, photography, record, record breaking, rhett beutler, rodeo, rural, saddle bronc, short go, tradition, west, western, winning
Saddle bronc cowboy Hardy Braden rode one of the most famous bucking horses in the business — Killer Bee — for a new arena record at the 100th Greeley Stampede in Greeley, CO during the final round of rodeo action on June 30, 2022. The 89.50-point score bested the previous record of 88 points set by Wade Sundell in 2018 and tied by Ryder Wright in 2019. "It is quite something, actually," said Braden when told his score set a new record. "I am kind of at a loss.  It was the 100th anniversary, what better way to do that then get an arena record and win the 100th."
Pretty cool moment to see in person and nice to be able to talk to the humble cowboy about it. A new article about it will be published soon in The Fence Post magazine with more conversation and more photos.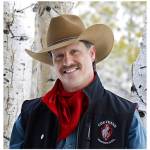 You can also find Lincoln Rogers on
www.lincolnrogers.com and the conservative,
Pro-America social media platform USA.Life
I like it there!