Tags
2022, agriculture, building, colorado, cowboy, cowboys, denver, expansion, historic, horse, horses, lincoln rogers, national western complex, National Western Stock Show, NWSS, Paul Andrews, rodeo, rural, stock show, west, western
I was able to get some one-on-one time with NWSS President and CEO Paul Andrews on the last day of 2022's 116th year of the NWSS (Sunday January 23). We discussed the challenges the NWSS had to go through in 2022 as well as looking ahead to the future of the historic venue and its on-going billion dollar expansion project. The Fence Post magazine has published and posted the Q&A online.
https://www.thefencepost.com/news/nwss-president-and-ceo-paul-andrews-talks-about-the-2022-nwss/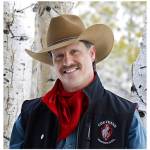 You can also find Lincoln Rogers on
www.lincolnrogers.com and the conservative,
Pro-America social media platform USA.Life
I like it there!