Tags
2023, bull riding, champion, colorado, country, cowboy, cowboys, denver, lincoln rogers, National Western Stock Show, No Place Like Stock Show, NWSS, PRCA, ProRodeo, rodeo, rural, saddle bronc, sport, Stetson Wright, west, western, winner
23-year-old Utah cowboy Stetson Wright has taken the rodeo world by storm after getting his feet wet in his 2018 rookie year. All he has done since those rookie days is earn a total of 7 PRCA world titles (4 All Around Titles, 2 Bull Riding Titles, and 1 Saddle Bronc Title) from 2019-2022. While piling up wins throughout those years, Wright had yet to win a buckle at the historic National Western Stock Show in Denver, CO.
Taking care of that oversight, Wright added a coveted NWSS buckle in 2023 when he won the saddle bronc title and almost picked up a two-fer when he came just one-point shy of the bull riding title after posting an impressive 90 points on a bull named Centerfold (Cervi Championship Rodeo Company).
It has been a treat to watch Stetson compete over the last several years – and take some cool photos of his rides – and he did not disappoint this year in the championship round of rodeo at the NWSS.
I'll be working on some NWSS articles and photos from the championship round for publication in the near future!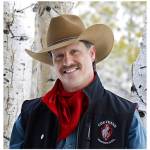 "You shall know the truth, and the truth shall make you free." ~ John 8:32