Tags
#photography, bareback, cold, colorado, country, cowboy, cowboys, culture, elizabeth Stampede, freelance, freelancing, frigid, horse, horses, lifestyle, lincoln rogers, memories, phtographing, professional, rain, rodeo, rugged, rural, sport, tough, weather, west, western
It's not exactly Singing in the Rain, but photographing in less-than-ideal weather is something you just do when you earn money with your camera. Wind whipping up? Rain starting to pour? It might be time to reach into the camera bag and pull out the emergency countermeasures (known by most people as lightweight windbreakers and plastic bags) and keep shooting.
While I have a lot of great photography related memories… a lot… I will always recall the freezing Sunday afternoon rain of the 2014 Elizabeth Stampede Rodeo. Despite it being early June, the downpour was frigid. My fingers were so cold they were basically stuck in the curved position of gripping my camera. On the positive side, at least I couldn't drop my equipment in the mud.
I am a freelancer, so I get to choose what I cover and what I photograph. Ice cold rain is not something I typically enjoy (and I pity those that do), but I do love covering good rodeos and photo opportunities in the rain can be unique. So I stayed a while longer and I am glad I did.
Why am I glad I stayed? While I was able to use some of the shots for my published article, the real reason I am glad I stayed is the memories that were made. I will always have the memories that go with those photos. Was it miserable weather for photographing? Yep. Did I want to leave sooner than I did? Yes again. But now, when I go back and look at the photos, I get to smile as I recall being there.
Sometimes I can't believe I get paid to write and photograph. What is that old saying? Do what you love and love what you do.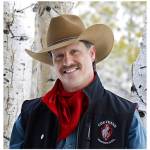 You can also find Lincoln Rogers on
www.lincolnrogers.com and the conservative,
Pro-America social media platform USA.Life
I like it there!