Tags
agricultural, agriculture, CALF, Castle Rock, colorado, colorado agricultural leadership foundation, country, fundraising, leadership, legend of agriculture, lincoln rogers, mission, rural, west, western
I have a new story with photos published about the Colorado Agricultural Leadership Foundation's (CALF) Legend of Agriculture Dinner and fundraiser that took place at the beginning of October. Great organization and great mission.
The story and photos are on The Fence Post magazine's website, as well as in their upcoming print edition.
The link to the article is here: https://www.thefencepost.com/news/calf-gives-and-receives-at-legend-of-agriculture-dinner/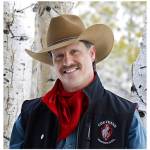 You can also find Lincoln Rogers on
www.lincolnrogers.com and the conservative,
Pro-America social media platform USA.Life
I like it there!