Tags
bible, Christian, church, colorado, cowboy, cowboy church, cowboys, cowgirls, denver, faith, fellowship of christian cowboys, God, holy bible, hymns, Jesus Christ, lincoln rogers, on the road, rodeo, west, western, worship
Rodeo competitors, their families, those who work in the industry, etc. have to hit the road to earn a living. With most rodeo competitions being held over the weekends, it can be challenging for Christian involved in the sport to attend a church service. The Fellowship of Christian Cowboys organization helps to fill that void by taking church services to the rodeos. I was able to attend the FCC service on the last Sunday of the 2022 National Western Stock Show in Denver, CO.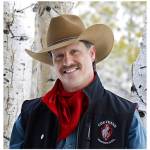 You can also find Lincoln Rogers on
www.lincolnrogers.com and the conservative,
Pro-America social media platform USA.Life
I like it there!