Tags
#photography, America, American Icon, Americana, bald eagle, bird, Bird of Prey, colorado, country, cowboy, cowboys, eagle, elizabeth Stampede, icon, lincoln rogers, National Bird, patriot, patriotism, photography life, rodeo, rural, symbol, United States of America, usa, west, western
Patriotism is just a love of your country and its founding principles. It seems people these days want to try and make it a divisive issue, but that's all it really is. Tradition can play a large role in that love. Rodeo is full of tradition. It also makes a point to respect and honor the traditions and symbols of the USA. I love how much respect and honor the American flag receives at a rodeo performance, but there are also enduring glimpses of other iconic symbols of the USA. I saw this one last year before the start of the 2021 Elizabeth Stampede Rodeo's Friday night Bull Riding competition.
Loved the moment. The majestic Bald Eagle caught in gorgeous sunset light. These kinds of moments are part of the reason I love the photographing the sport of rodeo.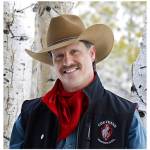 You can also find Lincoln Rogers on
www.lincolnrogers.com and the conservative,
Pro-America social media platform USA.Life
I like it there!