Tags
angus, beef, cattle, certified angus, Connealy Angus, Connealy Angus Meat Market, Coppermill Steakhouse, country, dry aged, farm to table, grill, grilling, Jerry Connealy, lincoln rogers, National Western Stock Show, nebraska, private label beef, ranch, ranching, registered angus, ribeye steak, rural, steak, west, western
Okay, let me get this out the way first. I like other people to enjoy good products as much as I do. It makes me happy to share great personal experiences so others can experience the same. I am not a spokesperson or paid representative and I do not receive compensation in any fashion for these kinds of posts. With that being said, I had the opportunity at an event held during the 2023 National Western Stock Show (NWSS) in Denver, CO to taste some 45-day, dry aged, bone-in ribeye steak from Connealy Angus Meat Market — the private label, farm to table arm of one of the top producers of registered purebred angus beef genetics in the world, Connealy Angus out of Whitman, Nebraska.
Now, I am not a "top chef" or a "food expert," but I am an avid griller and love putting good steak on the outdoor grill with the wood chips smoking, so I think I have tasted a lot of good beef. But I was absolutely blown away by how tender and full of flavor the Connealy Angus Meat Market ribeye tasted at the event. So much so, that I approached them at the event's conclusion and purchased several ribeyes at full price for myself. I discovered the Connealy family are incredible, down-to-earth people who are passionate about their beef and are willing to answer any and all questions asked. How much nicer is that than buying pre-packaged beef at the grocery store from whoever-they-are-from-who-knows-where? The Connealy Angus Meat Market steak was packaged and frozen when I took it home, but it looked amazing even in that state and I was hoping it would be as good as what I tasted at the stock show. The following image is what it looked like, still frozen in the package, on my countertop at home. It is a 1.0-pound package.
A few days later it was 50+ degrees in Colorado, so I thawed the ribeye out, seasoned it with just some salt and pepper, and fired it up on the grill until it was medium rare. I have to say, it was the most flavorful and tender steak I have ever grilled, and over the years I have grilled a lot of ribeye, NY strip, flatiron, and tenderloin. This Connealy angus ribeye was flat out superb. Is it inexpensive? No, but they are also not gouging you for what is a premium product of *14-day, dry aged, prime-level, registered 100% angus steak. That is very close to the level of steak you are served at a high-end steakhouse.
As Jerry Connealy said to me while I spoke with him at the NWSS event, "I like to think what makes us maybe a little bit different is that we have really honed in on marbling and quality and we are very particular genetically as to what cattle we pull out that goes into our system. We never want anyone to have a bad eating experience. Ever."
In my opinion, if you are looking for an amazing, at-home steak experience with high-quality beef where you can KNOW the people who raised it and exactly where and how it was raised, then you need look no further than Connealy Angus Meat Market. Great steak from great people. That is my story and I am sticking to it!
I still can't believe how good that ribeye is. Now I have made myself hungry and need to order more…
*Edited to note the private label beef from Connealy Angus Meat Market is 14-day dry aged, while the bone-in ribeye from them served at the event by Chef Adam Siegfried was 45-day dry aged. I can sincerely say the 14-day dry aged that I grilled up at home was just as amazing as what was served at the event!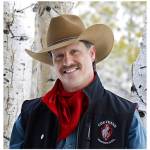 "You shall know the truth, and the truth shall make you free." ~ John 8:32