Tags
#photography, agriculture, animals, border collie, border collies, breed, canine, cattle, cattle dog, cattledog, colorado, country, culture, denver, dogs, elite, Fence Post, gus, heritage, james butler, lifestyle, lincoln rogers, livestock, man's best friend, national cattledog association, national western, National Western Stock Show, published, ranch, rural, stock show, the fence post magazine, tradition, trained, west, western, work, working, working dog, working dogs
On the last weekend of the 2022 National Western Stock Show in Denver, CO, the cattle dogs showed their stuff. Watching top-notch working dogs in action is always a treat and this year was no different. My article and photos about the cattle dog competition are now online at The Fence Post's website. Use the following link — https://www.thefencepost.com/news/dog-day-afternoon-2/ — or click on the photo to take you to the article.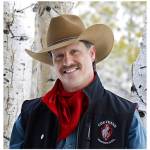 You can also find Lincoln Rogers on
www.lincolnrogers.com and the conservative,
Pro-America social media platform USA.Life
I like it there!