Tags
blessed, country, cowboy, cowboy poem, cowboy poetry, cowboys, dad, dads, family, father, father's day, fathers, happy father's day, lincoln rogers, man, men, ride, rural, saddle, west, western, wisdom
Inspired by an upcoming Father's Day back in 2004, I wrote a cowboy poem to honor the impact and importance of dads in the lives of their children. It is titled, "I Knew Him" and was published back in 2004 in a magazine and on a cowboy poetry website. I wanted to share it again for Father's Day, this year.
I Knew Him
By Lincoln Rogers – May, 2004
I wish I could tell ya I always was good,
Seldom in trouble and did what I should.
But that would be lyin' as far as I know,
Like a claim of a win when I really got show.
——-
I remember a Cowboy who took me under his wing,
He spoke on many a topic of what life would bring.
His voice deep and rough always told what was true,
It was like bein' in church amid the dawn and the dew.
——-
He imparted sage lessons about cow and horse,
And taught me of God to keep me on course.
He talked some of family, of kin and of pride,
While we sorted out cattle and rode side by side.
On the subject of women, he'd grow quiet and smile,
Said whatever men knew mostly missed by a mile.
——-
Though the brim of his hat gave him shade from the skies,
I saw his tan, creviced skin showing age 'round his eyes.
Soon I noticed him hunching against the cold of the weather,
And the strength started fading from hands of hard leather.
——-
The day he stopped riding was the week he went Home,
But he'll always be with me wherever I roam.
I'll never forget him, of every memory I'm glad,
You may not know him… but I called him Dad.
Happy Father's Day to all the dads out there. May you be the man God called you to be, using the strength He provides on a daily basis.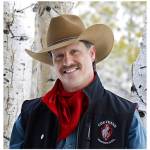 You can also find Lincoln Rogers on
www.lincolnrogers.com and the conservative,
Pro-America social media platform USA.Life
I like it there!