Tags
#photography, 4-H, agricultural, agriculture, Alyce Todd, animals, barn, Brooke Fox, CALF, Castle Rock, children, colorado, country, event, families, family friendly, far animals, farm, farming, food, kids, lincoln rogers, Lowell Ranch, pig, pigs, positive, ranch, ranching, rural, sheep, tradition, traditional, turkey, turkeys, values, west, western, youth
My latest article with photos has just been published online on the website of The Fence Post magazine. It will be in this coming Monday's print edition, as well. The article and photography cover the 2022 Farm & Ranch Day (Saturday May 28th) put on by the Colorado Agricultural Leadership Foundation (CALF) at their facilities located on the historic Lowell Ranch outside of Castle Rock, CO. Please read the article, where you will see quotes from CALF youth participants (Kenzie Summervill and Isabelle Carlblom) as well as hear from the CEO of CALF (Brooke Fox) and its new Program Manager, Alyce Todd. Click on the link or the image to get to the story and photos!
https://www.thefencepost.com/news/calf-continues-to-connect/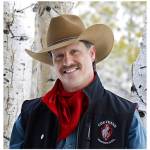 You can also find Lincoln Rogers on
www.lincolnrogers.com and the conservative,
Pro-America social media platform USA.Life
I like it there!