Tags
action, broncs, bulls, champions, colorado, colorado springs, country, cowboy, cowboys, lincoln rogers, million dollar rodeo, national champions, NFR Open, norris penrose arena, norris penrose events center, Pikes Peak or Bust, Pikes Peak or Bust Rodeo, rodeo, rural, vold rodeo company, west, western
I am currently swamped with photos and interviews from covering the 2022 Pikes Peak or Bust Rodeo's inaugural NFR Open in Colorado Springs, CO (July 13-16). While I hope to be able to come up for air sometime soon, I thought I would at least get out a pic of how nice it was to cover a high profile rodeo under the lights on Saturday night in front of a sold out crowd. The Norris Penrose Arena in Colorado Springs is a gorgeous setting with views of the Rocky Mountains.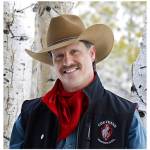 You can also find Lincoln Rogers on
www.lincolnrogers.com and the conservative,
Pro-America social media platform USA.Life
I like it there!