Tags
colorado, country, country life, cowboy, cowboys, elizabeth Stampede, horse, horses, lincoln rogers, livestock, mjud, photography, PRCA, rain, riding, riley pruitt, rodeo, roping, rural, sloppy, sport, tough, weather, west, western
One of the reasons I love covering the sport of rodeo so much is the toughness and competitiveness of the rodeo athletes. While some major professional sports athletes will sit on the sidelines with finger issues (I'm looking at you Major League Baseball), rodeo participants will compete with aches and pains AND rain or shine.
Although it rained all weekend long and left Sunday afternoon's competitors to run in the sloppiest conditions, Nebraska tie down roper Riley Pruitt ignored it all to power through the rain coming down and the mud coming up for a successful defense of his 2022 Elizabeth Stampede Rodeo title (June 04, 2023). On top of earning back-to-back titles, Pruitt's soggy win run was cheered by stands still filled with die-hard rodeo fans in Elizabeth, CO.
It ain't raining… it's just rodeo.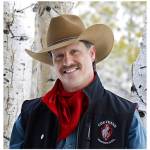 "You shall know the truth, and the truth shall make you free." ~ John 8:32