Tags
#photography, agricultural, agriculture, ambassadors, Ashley Baller, colorado, Colorado flag, country, cowboy, cowboys, cowgirl, crowd, elizabeth Stampede, fans, flag, horse, horses, lincoln rogers, miss rodeo colorado, queen, riding, rodeo, rodeo queen, rodeo royalty, rural, spectators, tradition, west, western, working
Some of the most popular people at a rodeo are the rodeo queens. They work hard inside and outside the arenas throughout every rodeo and they do a great job of being ambassadors of the sport to younger generations, as well as adults who aren't familiar with rodeo and the western/agricultural way of life. I had the opportunity to have a conversation with 2022 Miss Rodeo Colorado Ashley Baller during a break between the Saturday afternoon and Saturday night rodeos at the 2022 Elizabeth Stampede in Elizabeth, CO. I will be turning it into a Q&A that will be published soon in The Fence Post magazine, but wanted to give a shout out to all the rodeo queens that will be working hard during the busy summer rodeo season.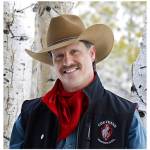 You can also find Lincoln Rogers on
www.lincolnrogers.com and the conservative,
Pro-America social media platform USA.Life
I like it there!