Tags
agricultural, colorado, colorado state university, construction, CSU, CSU Spur, hard hat, Hydro, lincoln rogers, national western center, photography, steel beam, USA.Life, west, western, working
Okay – maybe my name won't be front and center…
I was blessed to be able to schedule another editorial photography and interview appointment yesterday (September 10, 2021) in order to do a second story on the massive construction project on the grounds of the National Western Stock Show.
This story will focus on Colorado State University's (CSU) presence and partnership on the site and its agricultural implications for the state of Colorado. But I also got to sign one of the construction beams that will be placed near the top of CSU's "Hydro" building, which should be completed sometime in 2022. So I guess my name will be IN the building, rather than on it.
Pretty cool bonus after the tour, though! Now the Hydro building will always produce a smile whenever I see it in the future as that is as close as I will ever get to having my name on a building.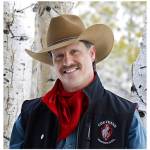 You can also find Lincoln Rogers on
www.lincolnrogers.com and the conservative,
Pro-America social media platform USA.Life
I like it there!