Tags
ag, agriculture, beef, cattle, country, cowboy, Hereford America, lincoln rogers, livestock, livestock industry, National Western Stock Show, NWSS, ranchers, ranching, rural, stock, stockyards beef festival, the fence post, west, western
My article and photos of the first annual Stockyards Beef Festival at the 2023 National Western Stock Show in Denver, CO seems to have gained some traction after it was published online by The Fence Post magazine on 01/20/2023. There were a lot of social media shares and interactions, which is a good thing for a great event like that one. You can still find it on The Fence Post's website.
But it has also now been reprinted in the Hereford America magazine and is available to read as a PDF on their website. The article starts on page 51 of their February 2023 issue.
You can also go straight to Hereford America's magazine archives and look at the issue there or you can read it right here. It is a good industry magazine and (again) my article starts on Page 51.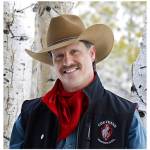 "You shall know the truth, and the truth shall make you free." ~ John 8:32