Tags
#photography, action, animal, animal athlete, athlete, bronc, buck, bucking, colorado, country, cowboy, cowboys, danger, dangerous, denver, denver coliseum, event, extreme, historic, horse, horses, lincoln rogers, livestock, lunatic fringe, lunatic from hell, National Western Stock Show, power, Pro Rodeo, rodeo, roughstock, rural, saddle, saddle bronc, sport, stock show, tradition, west, western
I love watching great animal athletes in action, especially horses. The championship round of rodeo at the 2022 National Western Stock Show had the best bucking stock in the sport on hand to compete against the top cowboys. The award winning "Lunatic From Hell" (out of the great "Lunatic Fringe") showed why he is one of the best bucking horses in the sport as he not only bucked off the cowboy, but also managed to avoid stepping on the competitor while continuing to buck and show off for the big crowd on Sunday January 23, 2022.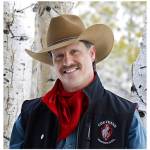 You can also find Lincoln Rogers on
www.lincolnrogers.com and the conservative,
Pro-America social media platform USA.Life
I like it there!