Tags
#photography, action, award winning, best, bronc, bronc riding, bulls, colorado, country, cowboy, cowboys, elizabeth Stampede, Fence Post, fence post magazine, lincoln rogers, photography, rodeo, rural, sports, the fence post magazine, west, western
I know it has been a while since my last blog post. My apologies.
Summer rodeo season is right around the corner and that means the award winning Elizabeth Stampede Rodeo is coming up quick. Not content to rest on their laurels and sold-out performances, the good folks responsible for the Elizabeth, Colorado rodeo are hoping to make a splash in 2023 with a Friday Night Chute Out featuring Bulls and Bronc riding, versus the traditional (and popular) bull riding only that has been a staple for over a decade. You can read my interview with the Elizabeth Stampede Vice President and Production Committee Chair, Ron Howard, on the website of the Fence Post magazine. https://www.thefencepost.com/news/nothing-less-than-the-best/
On top of all the new action, the Elizabeth Stampede is also going to be available via streaming service and television this year. Their new title sponsor – Maverix Broadband – is playing a large role in helping that happen.
Lord willing, I will have plenty of photos and articles from this year's rodeo to post in the near future!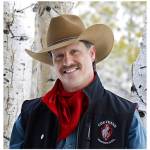 "You shall know the truth, and the truth shall make you free." ~ John 8:32